Point Richmond Village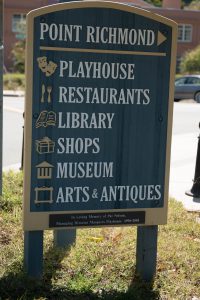 Point Richmond, sometimes referred to locally as "The Point", is a delightful old-town neighborhood near the eastern end of the Richmond-San Rafael Bridge, between Interstate 580 and the San Francisco Bay. Its modest size and many historic buildings give it a quaint small-town feel while preserving the exclusive nature of this charming community.
Originally a tiny village known as the "East Yards", Point Richmond was a small island surrounded by abandoned farm lands. It was considered the city of Richmond's central downtown area from the late 19th century until the early 20th century, when Richmond's present downtown area expanded and eventually became the current center. Since then, Point Richmond has seemed to stay amazingly insulated from its parent city's hustle and bustle. Many of The Point's trademark mom-and-pop shops and restaurants have survived over the years and the city has largely resisted the influx of chain-stores and restaurants. The Point Richmond Historic District has been listed on the National Register of Historic Places.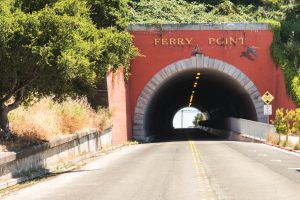 The neighborhood is divided by a striking ridge, which separates it into a bay side and a town side. Many houses including historic Victorians and newer luxury homes offer breathtaking views of the bay. Many of the area businesses are housed in century-old buildings dating back to before the founding of the town. This community enjoys 32 miles of gorgeous shoreline and offers a wonderful variety of leisure and recreational resources from boating, fishing and hiking, to golf, tennis and team sports. The city operates 26 city parks, 15 playgrounds, 18 play lots, a public marina with 750 boat berths at Marina Bay, and various beach parks, swim centers and community centers. Also, the area boasts several yacht harbors, a golf and country club and two community theaters.
Further along the shoreline lies Brickyard Cove and the Richmond Yacht Club, hosting one of several marinas in the city. Neighborhoods, which include Brickyard Cove, Brickyard Landing, Sandpiper Spit and Seacliff, offer a variety of condominiums and luxury homes terraced into the hills, as well as homes built over the water on piles along two spits.
Point Richmond also has variety of excellent restaurants. There's also the Point Richmond Summer Music Festival that happens the 2nd Friday of every month from June through the end of September. It is a time for people to gather, children to play and adults to socialize while enjoying some great music.
Click here to visit Point Richmond Online, and see more about what's going on in our community.