Brickyard Landing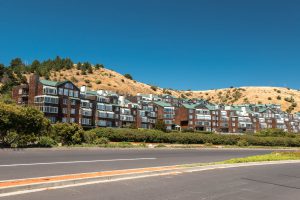 Brickyard Landing is a picturesque community of 310 condominiums nestled into the bayside of Point Richmond which offer incredible panoramic views of San Francisco and the Bay. The five buildings at Brickyard Landing span across twenty-four beautiful hillside acres and include a wide variety of amenities to suit any lifestyle. Brickyard Landing offers a large community clubhouse, a state-of-the-art fitness center, a 75 foot long heated pool with an adjacent hot tub, shower rooms with cedar dry and steam saunas and three private tennis courts.
Brickyard Landing over looks Richmond Yacht Club and Brickyard Cove Marina which offers commercial space and a restaurant. Office rentals are also available – imagine walking to work from your bay view condo to a near by office space sharing similar views of San Francisco, the Bay and Brickyard Cove Marina!
Location is key! Brickyard Landing is near major freeways with easy access to Marin, San Francisco and the East Bay.
There are many scenic walking and hiking trails nearby with amazing views. These bay trails also offer an opportunity to enjoy the unique local climate – considered to be one of the best in the Bay Area.
Click here to visit Point Richmond Online, and see more about what's going on in our community.