Bay Front Communities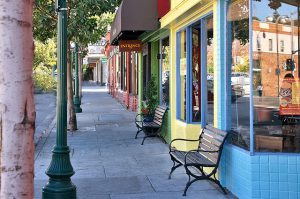 There are many beautiful bay front communities within bike-riding distance of Point Richmond.
Albany is a sweet little town blessed with a wonderful combination of mom-and-pop shops and modern boutiques — one rich in diversity — a beautiful, sane, and generous place. It is known for its excellent schools and therefore a very family oriented community. With its hills which have views of the Bay and San Francisco – it has a beautiful shoreline with bike trails and parks – it is an ideal place to live.
The major retail and business areas in Albany are Solano Avenue, which is a pedestrian-oriented street lined with mainly small shops, restaurants, and services; San Pablo Avenue, which is more automobile-oriented; and an area near the East shore Freeway, which the city is trying to attract big-box stores and offices, and currently houses a two-story Target store.
Albany is the site of Golden Gate Fields, the only horse racing track in the Bay Area.
The freeway allows easy access to San Francisco and all around the Bay.
For more information visit AlbanyChamber.org.